DSP-Plate Amplifiers
With Pascal Amp Modules And Dante Support
DSP-Plate Amplifiers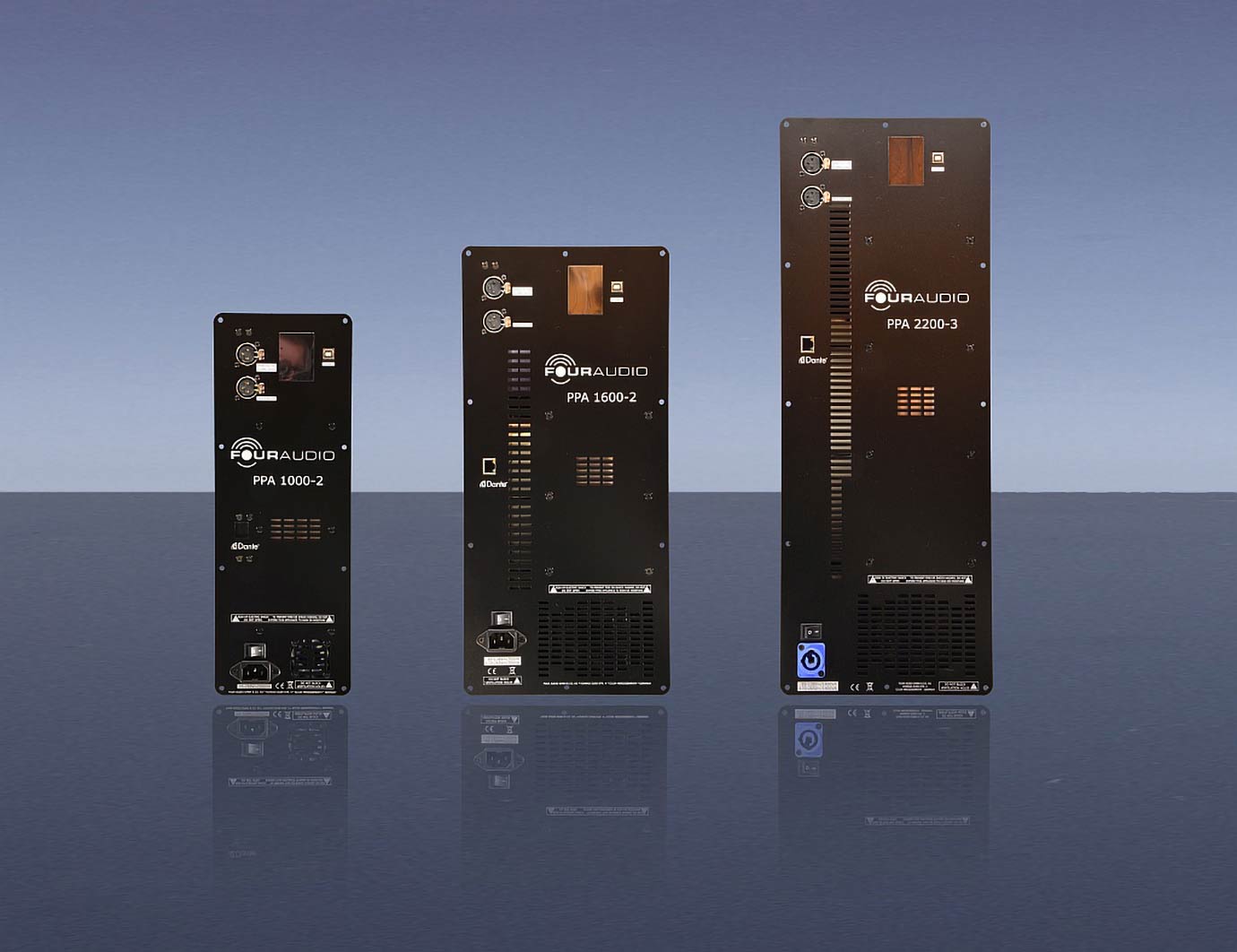 High-Quality Amplifier Solution.
The PPA series provides a high-quality DSP-powered amplifier solution for active loudspeakers. It features Pascal high-power modules, analog, digital and Dante inputs and is available in different configurations for various kinds of speakers. Signal processing is done in 32 bit floating point on an Analog Devices Sharc DSP and uses dual range ADC for high dynamic input range. Besides usual IIR X-Overs and EQs, also FIR filters are available for linear phase system response. An advanced limiter concept protects speakers and prevents amp and PSU overheating. Programming can be done via USB and the included touch display (see bottom of this page). A sophisticated user interface for programming and easy-to-use FIR filter creation is provided.
Please, note that we can only deal with commercial customers. Here you can download a leaflet. More Downloads on our download page.
Features
32-bit floating-point signal processing using a Sharc-DSP
linear phase FIR and IIR-Crossovers, EQs
Advanced Limiter concept with
dual band look ahead Peak-Limiter in each output
dual band RMS limiter in each output
Overall power supply limiter
USB connection for programming via remote software
Touchscreen for controlling the unit
High dynamic range (128 dB(A) dual range converter input, 112 dB(A) output)
Analog, AES/EBU and Dante input
Pascal high-power amplifier modules and PSU
11 models with active cooling
7 models with passive cooling

System Design and User Operation
The units can be programmed with several system presets by the system developer.
End users are allowed to adjust room EQs, gains and delays in a user mode and store user presets without touching the system presets.
OEM customers can provide keyfiles to enable GUI features for end users. The touch panel shows level meters, limiter operation and allows switching presets and inputs.
OEM Solutions and Customization
For high volume customers, Four Audio supplies custom designs with reduced features tailored to the needs of the customer. E.g., standalone operation of DSP and amplifier without using the touch
display is possible.
Contact Four Audio for more information.
Signal Processing
Limiters
Look-ahead peak limiter, 

RMS

limiter, both dual band overall power supply limiter
EQs
Bell / notch filter, allpass, shelving filter 6dB / 12 dB
X Overs
Bessel, Butterworth, Linkwitz-Riley, Critical
FIR
linear phase X-over and linear phase loudspeaker equalization
Others
input delay, output delay, phase inversion, gain
Software
GUI Software with Developer and User modes to create developer and user presets
Interactive operation on channel parameters and EQing
Advanced easy-to-use FIR generation from speaker measurements with defined latency
| Common Technical Data | |
| --- | --- |
| Max input voltage | 23 dBu |
| Analog input SNR | 128 dB(A) |
| Output SNR | 112 dB(A) |
| Mains input voltage | 85 – 265 VAC |
| Protection | All models provide over current, DC, temperature and high frequency protection. The 1600/2200 models additionally feature over-/undervoltage protection. |
Overview of passively cooled PPA modules
Full metal housing, front plate with cooling ribbons
PC-IEC inlet with power switch and mains filter
Must be mounted upright
Output Power [W@4Ohms]
Minimum Load SE [Ohms]
Dimensions
Model
Total
Out 1
Out 2
Out 3
Out 4
Out 1
Out 2
Out 3
Out 4
[mm]
PPA 500-1 PC-IEC
500
500
–
–
–
2.7
–
–
–
135×318
PPA 500-2 PC-IEC
500
500
150*
–
–
2.7
8
–
–
135×318
PPA 500-3 PC-IEC
500
500
150*
500
–
2.7
8
2
–
135×386
PPA 500-4 PC-IEC
500
500
150*
500
500
2.7
8
2
2
135×386
PPA 1000-2 PC-IEC
1000
500
500
–
–
2
2
–
–
135×331
PPA 1000-3 PC-IEC
1000
500
500
500
–
2
2
2
–
135×411
PPA 1000-4 PC-IEC
1000
500
500
500
500
2
2
2
2
135×411
PPA 1600-2 PC-IEC
1500
810
810
–
–
2
2
–
–
135×331
PPA 1600-4 PC-IEC
1500
810
810
810
810
2
2
2
2
135×436
* @8 Ohms
Overview of actively cooled PPA modules
Neutrik Powercon True 1 connector
Constantly slow spinning silent HQ fan
Output Power [W@4Ohms]
Minimum Load SE [Ohms]
Dimensions
Model
Total
Out 1
Out 2
Out 3
Out 4
Out 1
Out 2
Out 3
Out 4
[mm]
PPA 500-1 AC
500
500
–
–
–
2.7
–
–
–
135×324
PPA 500-2 AC
500
500
150*
–
–
2.7
8
–
–
135×324
PPA 500-3 AC
500
500
150*
500
–
2.7
8
2
–
135×405
PPA 500-4 AC
500
500
150*
500
500
2.7
8
2
2
135×405
PPA 1000-2 AC
1000
500
500
–
–
2
2
–
–
135×380
PPA 1000-3 AC
1000
500
500
500
–
2
2
2
–
135×452
PPA 1000-4 AC
1000
500
500
500
500
2
2
2
2
135×452
PPA 1600-2 AC
1500
810
810
–
–
2
2
–
–
135×380
PPA 1600-4 AC
1500
810
810
810
810
2
2
2
2
135×477
PPA 2200-1 AC
2200
2000
–
–
–
4
–
–
–
205×470
PPA 2200-2 AC
2200
2000
800
–
–
4
4
–
–
205×510
PPA 2200-3 AC
2200
2000
800
800
–
4
4
4
–
205×550
* @8 Ohms
PPA

 Display with Touch Panel Introduction