WFS
Module for Wave-field Synthesis Systems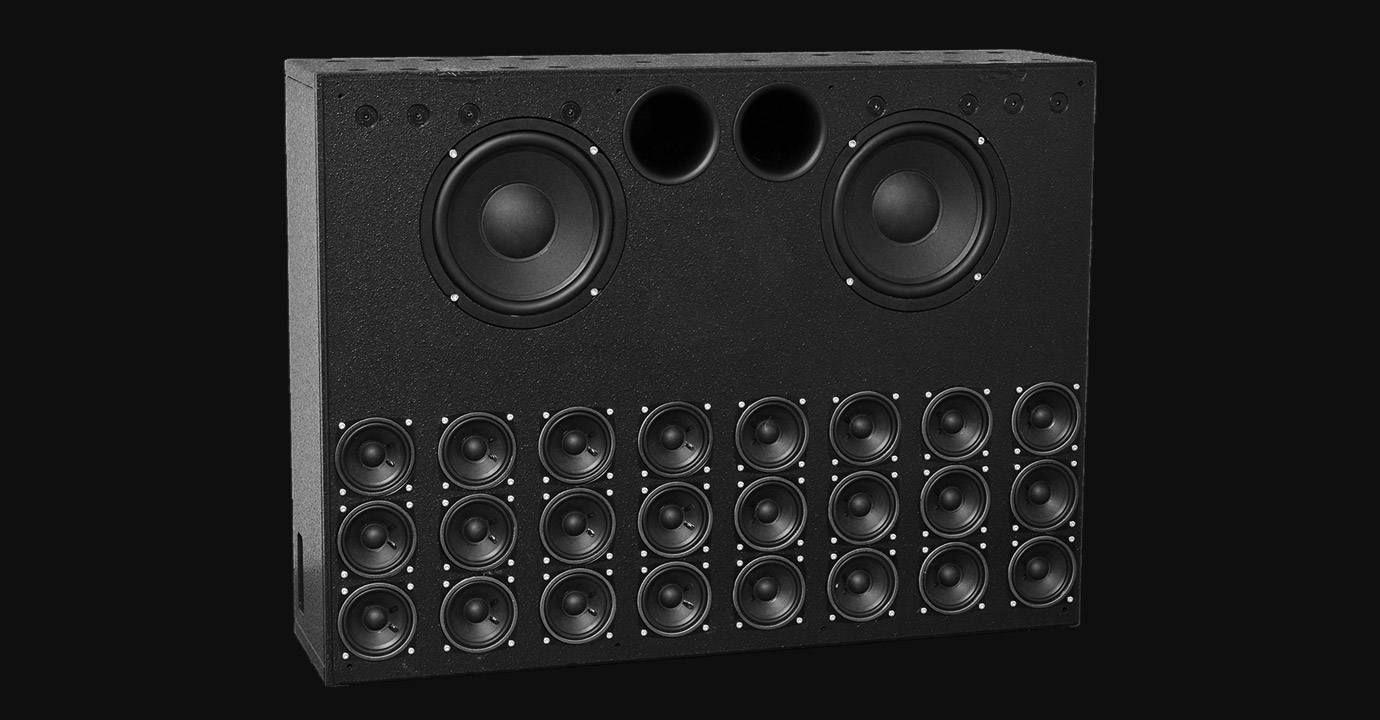 Clean wavefield synthesis reproduction.
To create a virtual sound environment by Wave Field Synthesis, it is necessary to surround the audience with a line of loudspeakers. The more channels and the closer the spacing, the better. In 2007, a lecture room at the Technical University of Berlin was equipped with 110 of our 8-channel WFS-modules. These modules were used as a basis to develop a successor with the following requirements.
Requirements for the new Module
same basic concept as the predecessor
vertical directivity suiting different mounting situations
high-level sound reproduction
mechanical construction suitable for fixed and mobile installation
simplification of audio distribution
unobtrusive design, yet heavy duty enough for mobile use
Audio Performance / Technical Data
Max. level at 3% 

THD

110 dB (1 channel) / 120 dB (4 channels)
Freq. response
50 – 20 kHz
Dynamic range at outputs
120 dB
Output noise at power amp
-89 dBu
Noise 

SPL

 at 1m
-3 dB (A)
Power consumption/no output signal
60 W
Channel spacing
10 cm
Maximum Level
The 2 pictures below show the maximum level for reproduction over one channel and four channels. Limiters are set rather conservative to prevent damage under all circumstances.
Electronics
2 × 400W Hypex power supplies
10 x Hypex 180W amplifiers
Four Audio HD2 Controller
Four Audio DS1 Gigabit Switch
Audinate Dante Modul "Brooklyn 2"
Audio Distribution
The number of audio channels for a wave-field synthesis system easily reaches 200-300 channels for a 5×6m reproduction room. Using MADI and ADAT (like in the system at the TU Berlin) implies high expenses for cabling, complexity and costs for distributing the audio signals.
This was dramatically reduced by using the Dante Audio network from Audinate. It is based on IP Layer 3, thus, commonly used network components (switches, routers) can be used for distributing audio data parallel to user data like command and control or monitoring data.
The modules comprise 2 Dante network connections which can be used either redundantly to switch glitch-free from the primary to the secondary network if one network fails. Or they can be used to daisy-chain the network from one module to the next to minimize cabling.
Thus, using one network cable to the first module and short cables for daisy chaining the modules, audio data, command and control data and arbitrary user data can be distributed.

Mechanical Design
The WFS modules can be used in fixed or mobile installations. For this, several mounting points for half couplers and safeties are provided. The following 2 pictures show different mountings: